[Rafael Crespo] Reduce recovery up to 40~50% for stroke patients!
페이지 정보
작성일

2014/06/30 13:24 Hit3,690
Q1. Please introduce yourself and your project.
My name is Rafael Enrique Mendoza Crespo, I am a PhD student at Tecnol?gico de Monterrey, campus Monterrey, M?xico. In my Lab (Laboratorio de Rob?tica) we develop autonomous navigations systems and active orthosis. Part of my thesis is to develop a lightweight lower limb exoskeleton for walking assistance.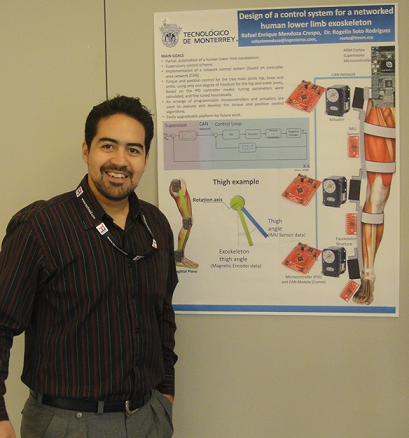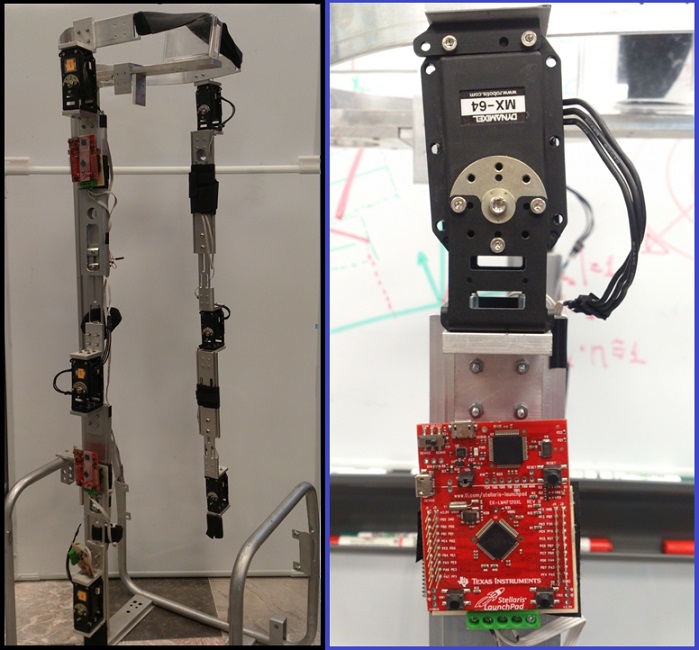 Q2. How will your robots help patients with stroke and what do you hope to achieve?
Our project tends to help the hemiplegia, which is the most common consequence that stroke patients suffer. This level of paralysis consists in the immobility of one side of the patients' body. So that it turns very difficult to walk for them. That is why, the aim of the project is to assist them by using a robotic exoskeleton, in order to perform the correct movement a healthy walking pattern has been recorded and then preloaded in the controller. The expectation is to reduce the patient recovery time by 40 to 50 percent.

Q3. What controller and software tool did you use and why did you choose the Dynamixels for your robot?
We use an array of seven Stellaris Launchpad boards from Texas Instruments, all networked together. The code composer studio software has been used to program the controllers. The Dynamixel MX-64T motors have been chosen due to the ratio between actuator weight and produced torque. The servos behave with very good performance for relatively lightweight applications. In addition Dynamixel motors offer a wide variety of features such as position control, adjustable controller parameters, fault alarm and very fast serial bus communication.
Q4. What is your vision for robotics and what motivates you?
Robotics is under development, but we still have a lot of work to do. Gradually robots become part of our lives, we program them to assist us with some tasks, so close at home, or have fun in leisure time and even to aid in some rescue situations.
I really want to contribute with my work to get the robots safer for human use. And for my specific development I want to design better robots that interact with humans in a more natural way.
I wish I could reach more people and positively influence their lives, and effectively contribute to increase their life quality.
Q5. Last but not least, how would you define "robot"? (What does "robot" mean to you?)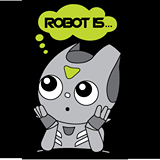 A robot is a system composed of mechanical parts, electronics and software, working all together in order to achieve one common objective. It should be able to interact with its environment or people with a certain degree of autonomy.
For more informtion about Rafael and his project, please visit the link below.
http://labrob.mty.itesm.mx/proyectos/robotic-exoskeletons